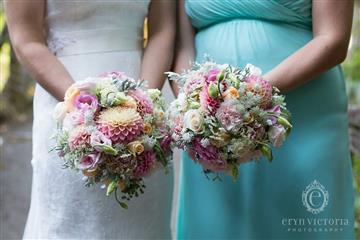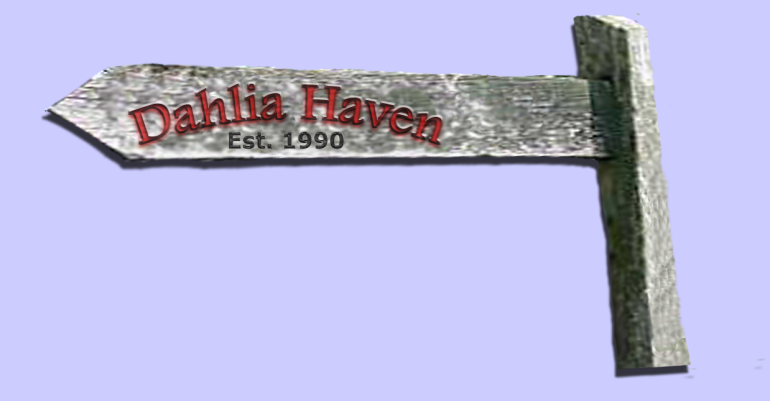 Dahlia's can look absolutely amazing for boquets and wedding displays
Dahlias as cut flowers..... with some creativity the floral arrangements can be quite unique.
A bridal bouquet at Karin & Terry's big day January 2013
___________________________________________________________________________________
Dahlia's for Special Events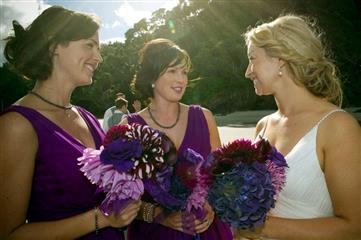 Kingsland/Jago wedding
... used dahlias to compliment the bridal party. Ordered from Australia, for their NZ wedding the dahlias had to be purple tones, and the bride was absolutely delighted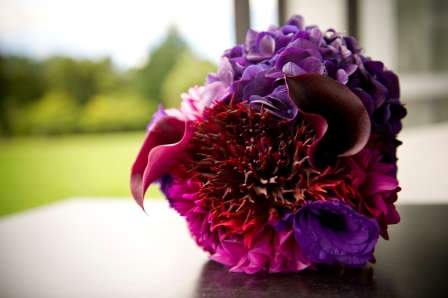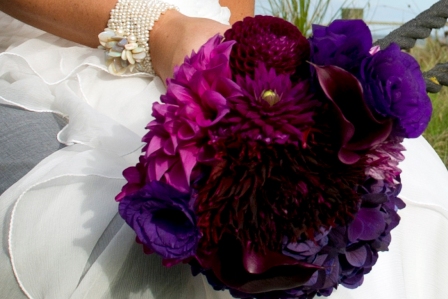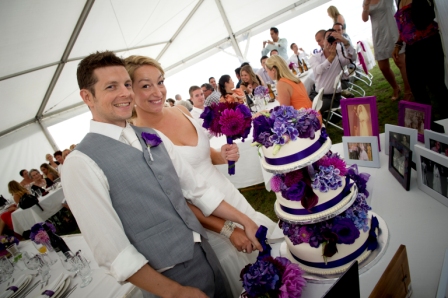 Katie and Glenn's Wedding 1st April
Its true......married on April 1st!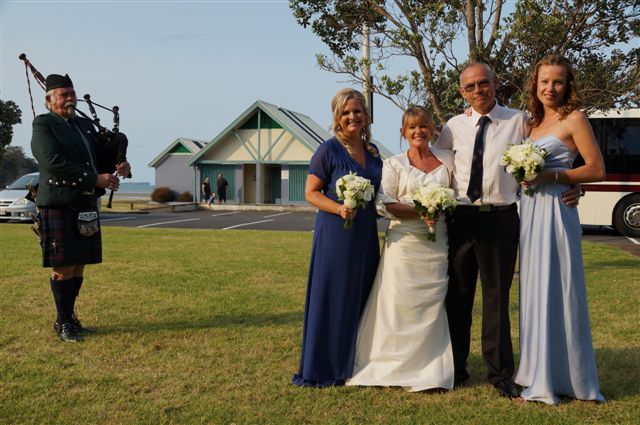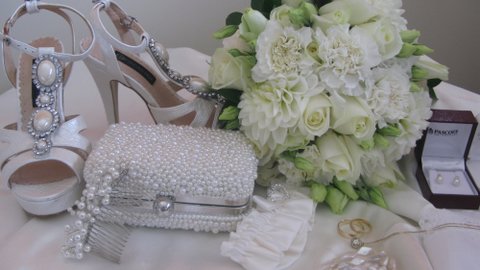 Karin & Terry's big day
Photo's supplied and used with permission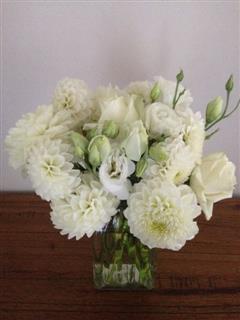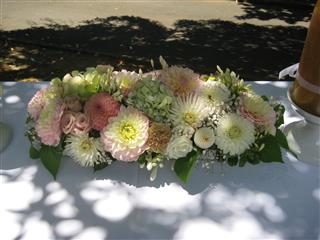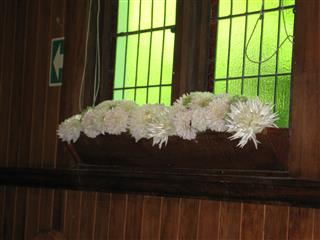 Janine & Andrew's wedding
Dahlias were used to dress up the refreshments table and sills of the stained glass window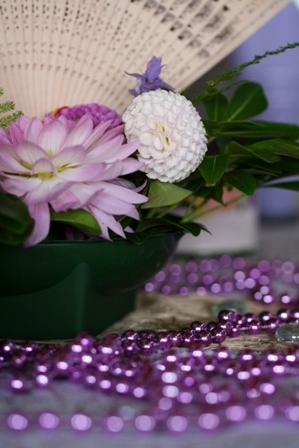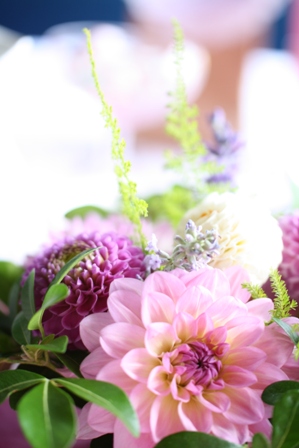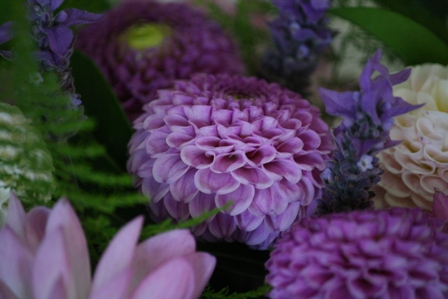 Debra Hunt
of Orewa
took these shots of some table arrangements for a "Ladies high tea luncheon"
at the Orewa Baptist Church 2013.
Arrangements were made by
Joan Roberts.
The menfolk probably stayed at home and had dry bread.....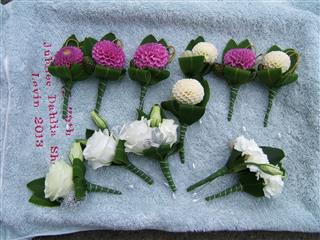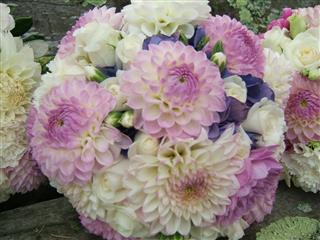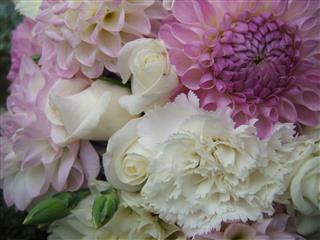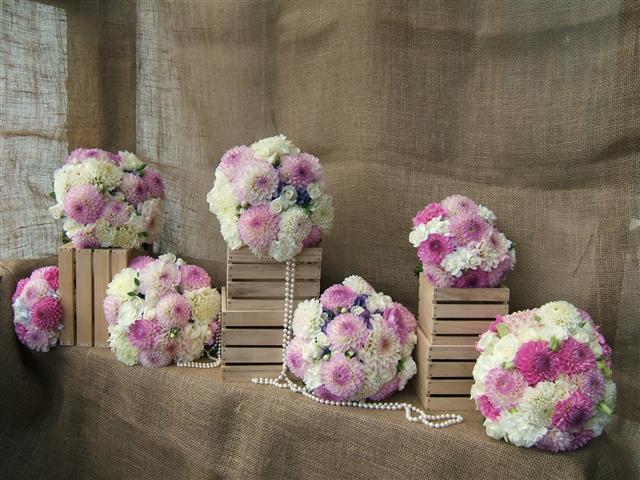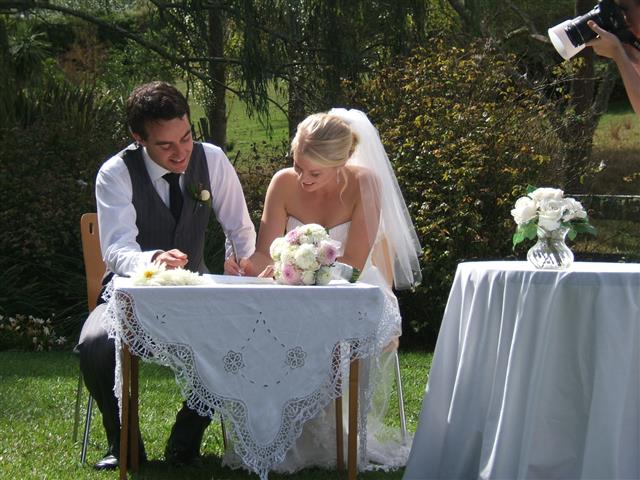 Judith from Whangaparaoa's Judith's Floral design www.judiths.co.nz
was helped by Linda on their Easter weekend to prepare the bouquets and buttonholes for this wedding.....
Katrina from
Jensens Hydrangeas (Ardmore)
and
Tony from
North South Flowers (Carnations)
supplied the extra's to complement the beautiful dahlias still flowering.......
The groom was all smiles, and so he should have beeen with a gorgeous new wife. What was amazing though was that the dahlia variety "Glenn Haven" named after him back in the 90's was absent from the big day......
Formerly from North West Auckland the couple are now hibernating in Christchurch....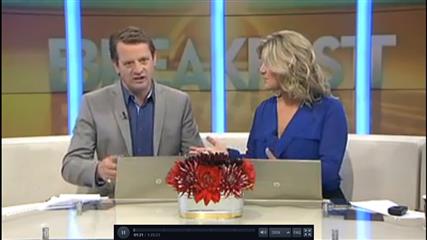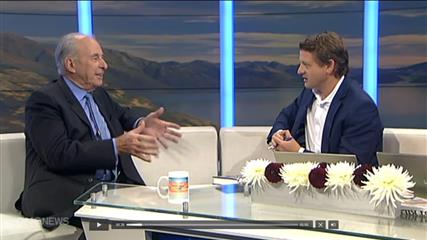 The TVNZ "Breakfast Show" featured dahlias from Dahlia Haven several times during the 2013 and 2014 seasons. These shots "clipped" from the live telecasts, shows the dynamic colour and form dahlias added to the set without distracting from the hosts.
___________________________________________________________________________________
Antics and special events during the season 2019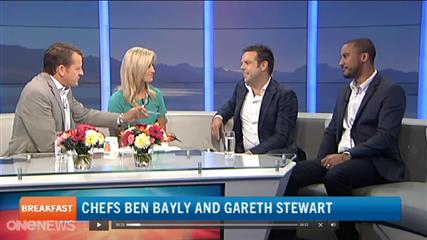 NI National 2017 at Hamilton, and this exhibitor from Hawkes Bay was getting her blooms ready for the show. Its a long drive to get to the show and by the vague look she was at the time a little bit like a deer caught in the headlights at night... however she was still sharp enough to get a number of premiere awards on the top table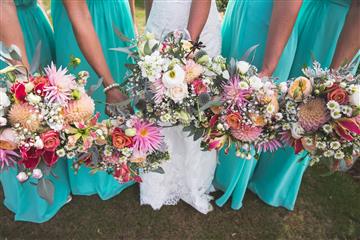 Debbie and Pip at BLOOMBROKERS (Mt Wellington based wholesalers) have kindly sent us these photos of blooms they supplied for a wedding 2015. One photo appears to be taken by Eryn Victoria Photography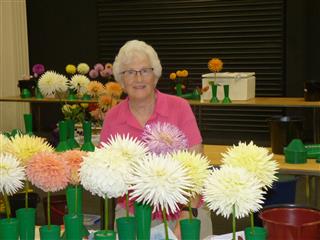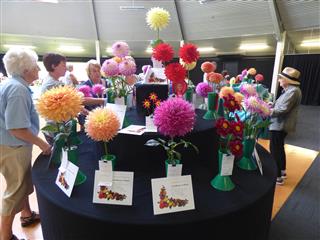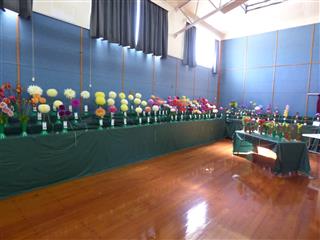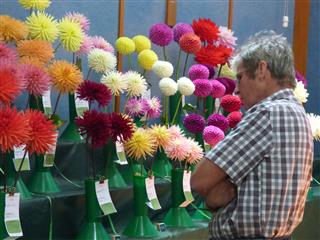 Waihi show 2017, one of the bigger upper North Island shows was well patronised once again. The new competitior to the left (new as he has been showing for less than 50 years) is studying some of the standout varieties on display
Russell & Sams wedding April 2018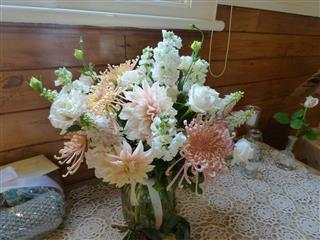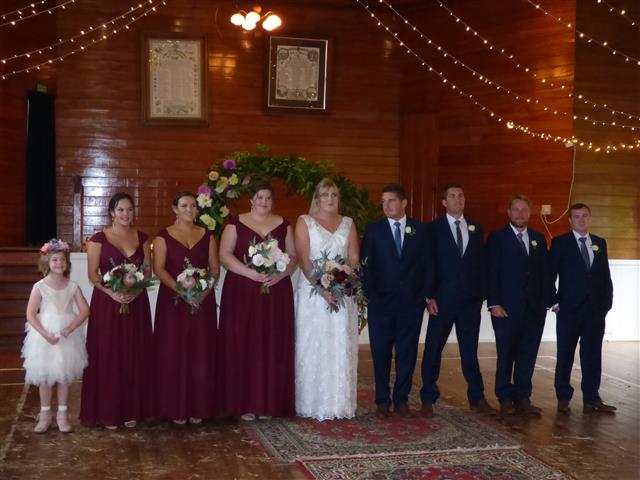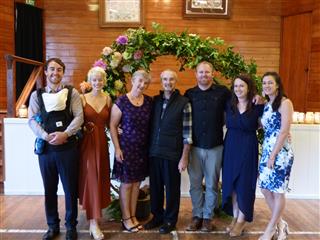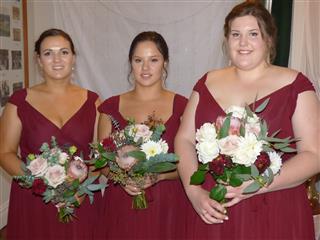 Linda and Judith again arranged flowers for this young couple married at Puhoi. The rain pelted down all day and only stopped briefly when outside pictures were taken. Dahlias were used as part of the bouquets and in the archway at the back. The ballerina on the left just kept appearing in all the photo's. Not sure if she was a part of the bridal party or just liked dressing up like her uncle.
Not sure why this picture under the archway was taken, of the newly married couples cuzzies. Perhaps it was an inducement to try and get the youngest in the family married off.... (far right)
The girls were very pretty....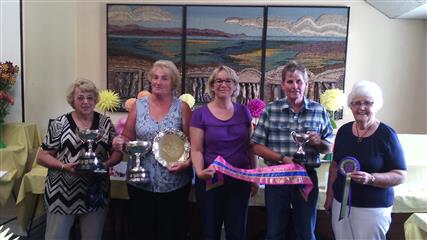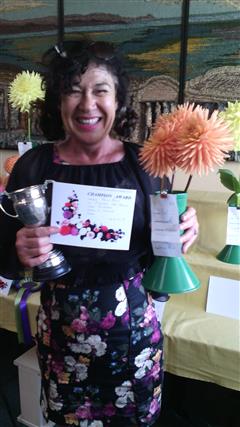 Auckland 2019 show saw lighter numbers due to the dry weather, but the quality was good. The top winning table saw some nice blooms and the winning exhibitors gained encouragement for their seasons hard work and took home some big grins and lots of silverware to polish....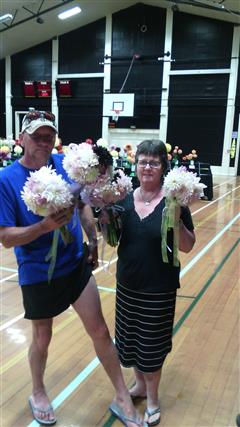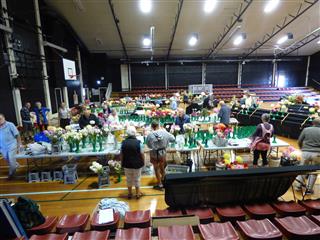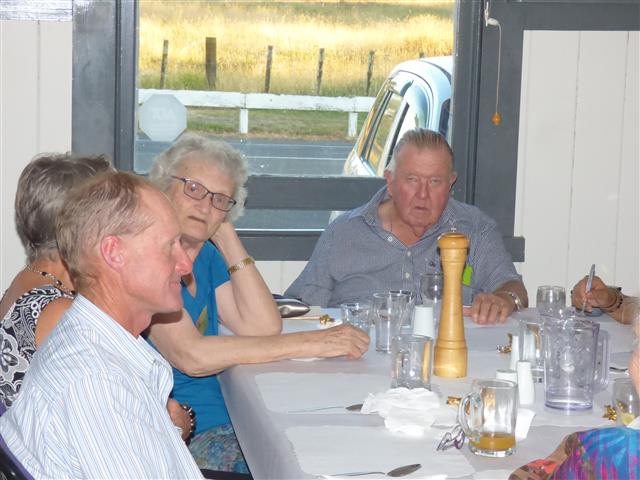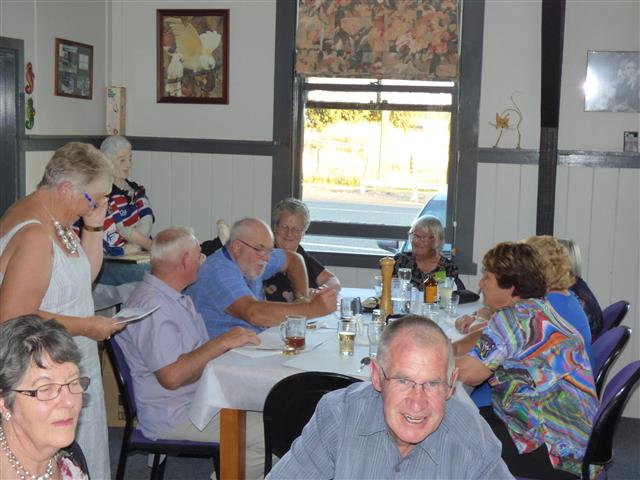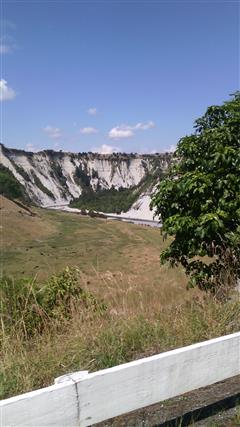 North Island 2019 National at Fielding saw a minibus load of pensioners and their blooms go from Auckland to enjoy the southern hospitality. A nice clean town and a great venue saw a good display.
Being handy to their home town made it easier for some mature folk, renown in the wider dahlia circle for their involvement in shows and for breeding new varieties over the years. This couple on the left came for a looksee and to catch up with old friends.
I think Betty left Malcolm at home reading an article about the wool prices, and he probably didnt notice she had even gone until his the scones ran out and his cuppa was cold......
This couple on the right came from the back blocks somewhere, and he was practising his moves in case they had to hitchhike back home again.
The aftershow dinner and prizegiving went well with new royalty from Te Puke in attendance. A vocal group from the South Island livened up the party, and the young ones from the north who went back for second helpings were kept in check by Peter who gave them the evil eye (left picture)
On the way home, we took an adventure in the minibus ( I'm a male, I dont need a map, I know where I'm going, I'm not stopping to ask...) and wound up seeing some fantastic scenery. A one way bridge took us over the river, and we thought that it would be good to visit in the wet season to see how full the river got. Great roads down there. Better bridges than in rural Auckland, less traffic, more courteous drivers (except for minibus/campervan drivers) and the fuel is cheaper too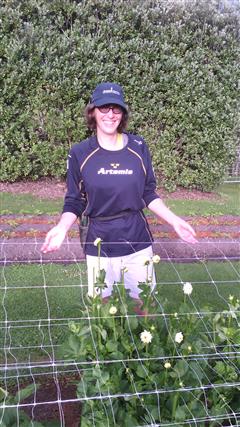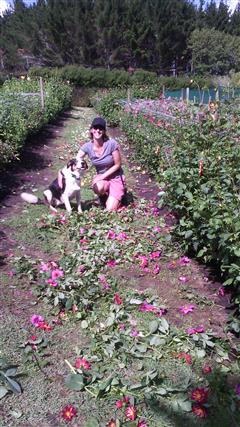 With Donald Trump running one of our neighboring villages we thought we should do the decent thing and employ one of his fellow countrymen.
Amy came for the season from a retail background to experience outdoor work and found out about sunburn, rain, wind, sweat, and poor prices. We heard a few stories about fishing from a canoe, and her many adventures with Scotty. Buzz the dog got his ear scratched every now and then and morning tea time he knew she was a soft touch for a pat or two.
Angela was lonely again and came back to help. I think she just didnt want to stay at home and watch TV soccer replays with Bill.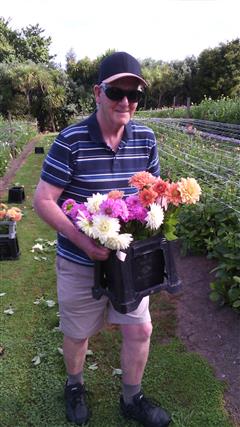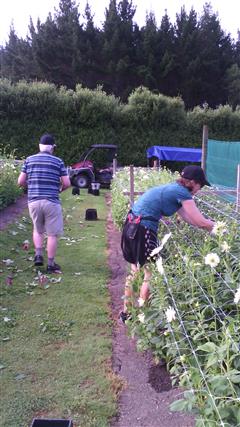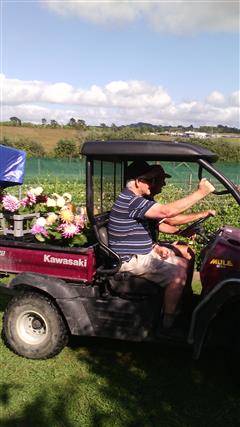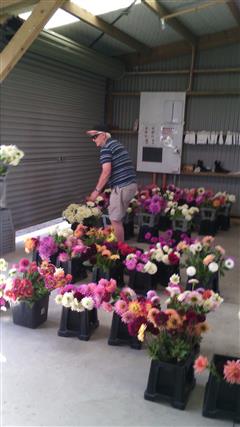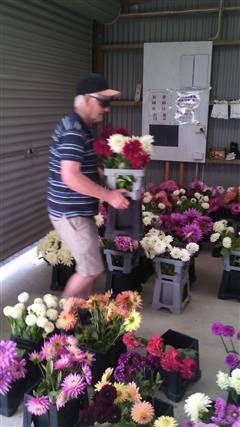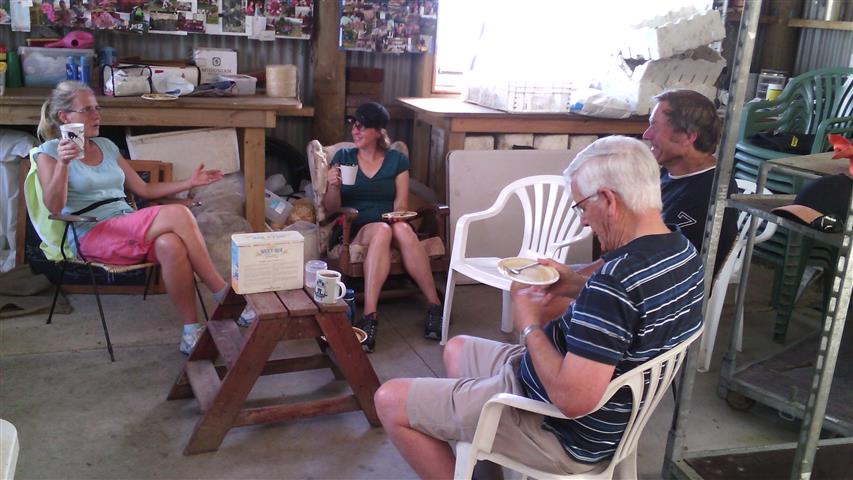 One unusual day we found this bloke wandering around the garden, carrying flowers, moving stuff around, riding the bike..... no one seemed to know what was going on, but he wasnt doing any harm. Said his name was John (sounds a made up name to me and he always had a hat and dark glasses on. You can tell a lot about people when you can see their eyes..... smiled a lot as well, like he knew something that we didnt.....just suspicious if you know what I mean) He actually worked just as well as the younguns. Anyway, nothing untoward happened so we thought we should give him a cuppa tea. He disappeared after that so perhaps he was just a homeless person looking for something to eat....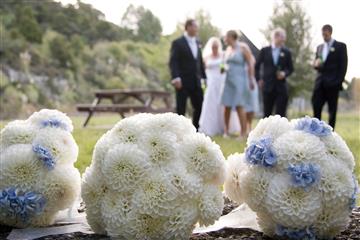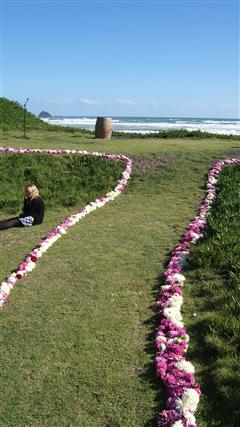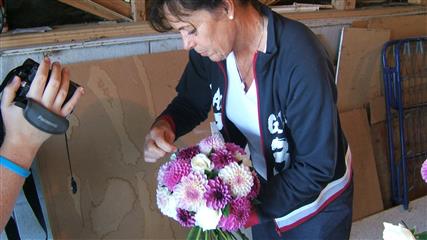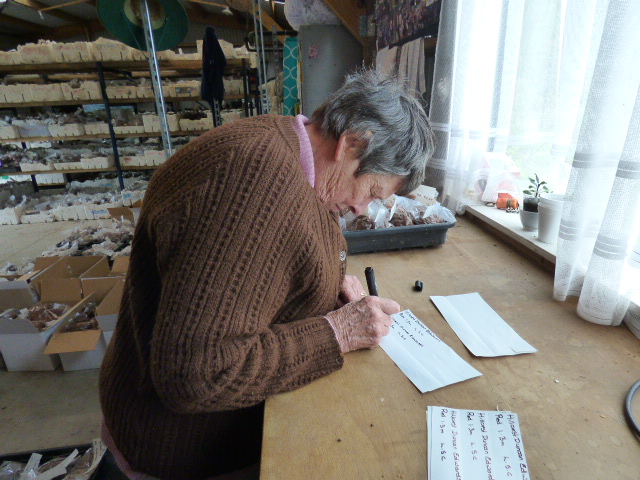 Had a relief worker come from a retirement complex during July and she was helping with writing labels on tuber packages for this seasons orders.
Every now and then she would slowly close her eyes and doze off for 5 mins or so, and we took the opportunity to take this photo....