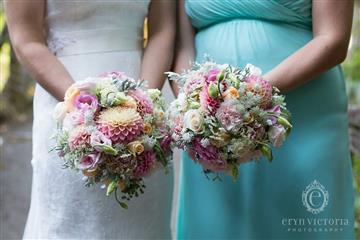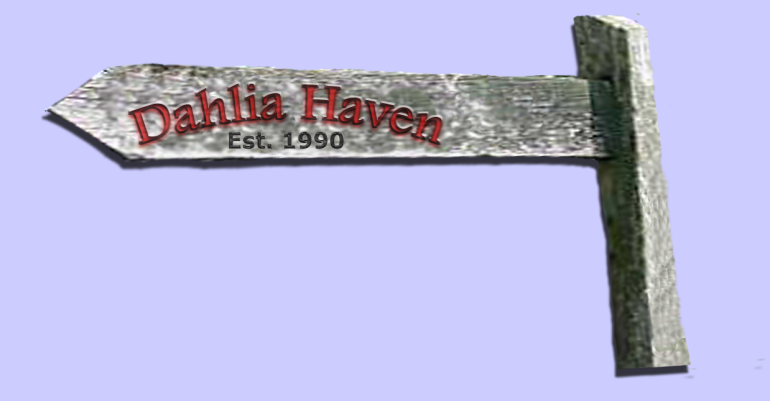 Dahlia's can look absolutely amazing for boquets and wedding displays
Dahlias as cut flowers..... with some creativity the floral arrangements can be quite unique.
A bridal bouquet at Karin & Terry's big day January 2013
___________________________________________________________________________________
Dahlia's for Special Events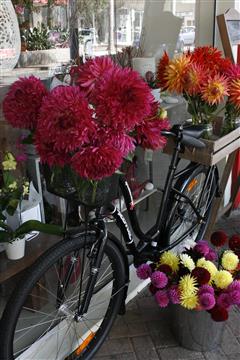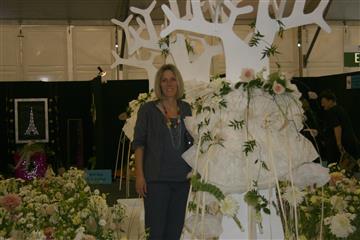 Owner Franca Logan entered a display of dahlias at the Christchurch "Ellerslie" flower show, receiving a silver merit award for her winter creation. Some dahlias were obtained locally and others were taken on the plane.
Outside the Takapuna shop her delivery
bike has a display of Annabella's Haven in the basket.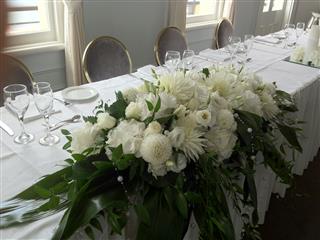 A traditional white wedding by
Franca of Florienne
using dahlias from Dahlia Haven
Website for Franca see www.florienne.co.nz
FLORIENNE's FLORIST of Takapuna.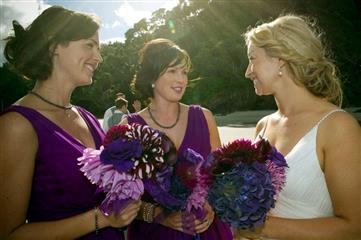 Kingsland/Jago wedding 2012
... used dahlias to compliment the bridal party. Ordered from Australia, for their NZ wedding the dahlias had to be purple tones, and the bride was absolutely delighted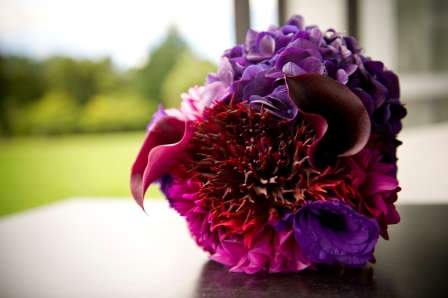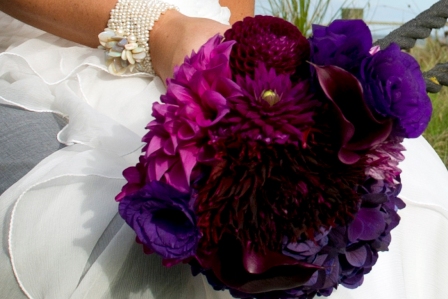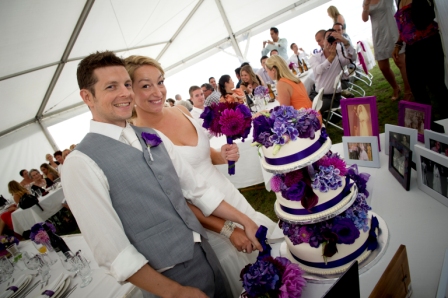 Katie and Glenn's Wedding 1st April 2013
Its true......married on April 1st!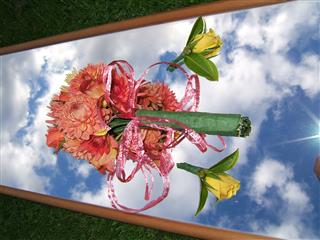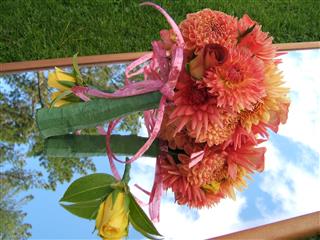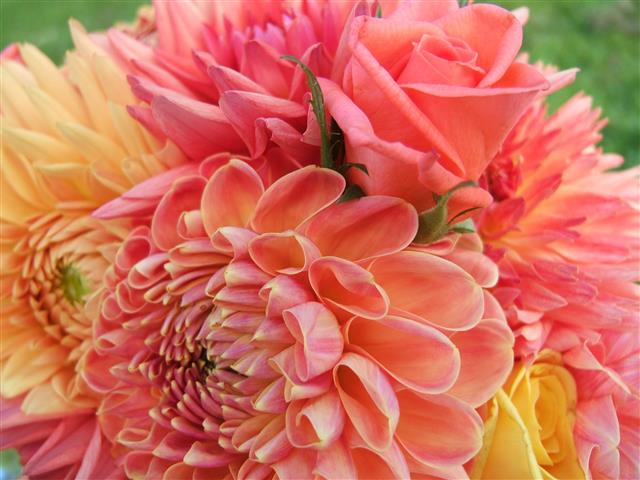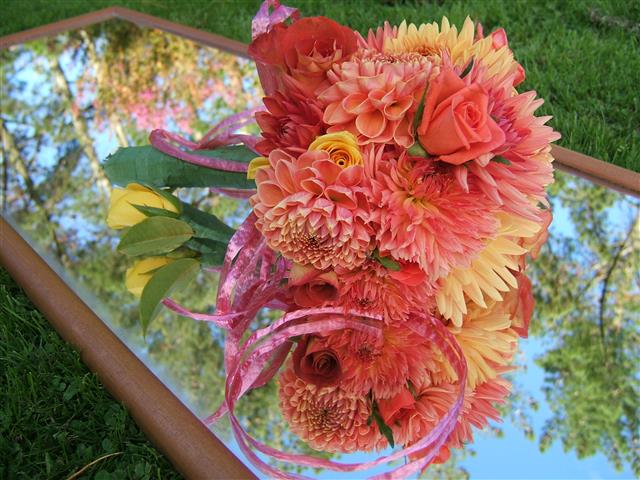 With some imaginative arranging, and the artistic use of a mirrored reflection, these exclusive shots of a boquet prepared for a Kumeu function were taken using dahlias and the odd rose from Van Leir Nurseries of Riverhead
www.vanlier.co.nz
___________________________________________________________________________________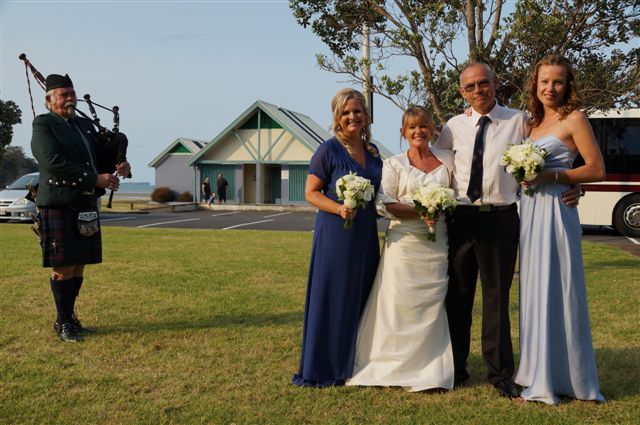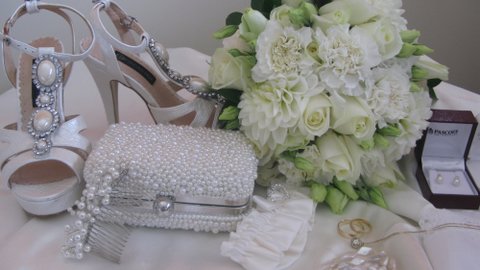 Karin & Terry's big day January 2013
Photo's supplied and used with permission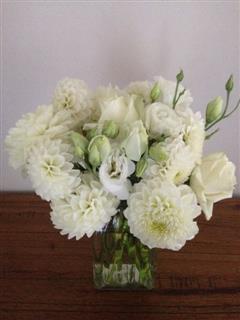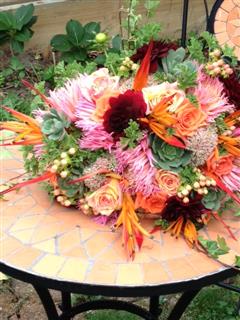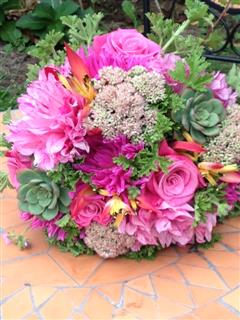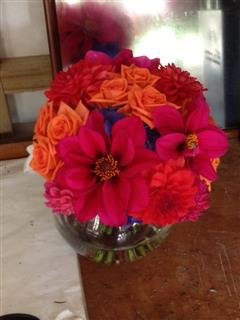 Meghann Humphries of Auckland
with a few arrangements for a recent wedding.
www.goweddingflowers.co.nz/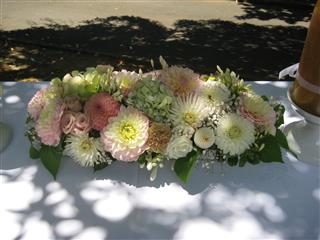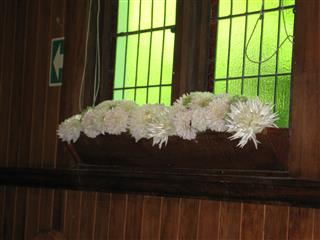 Janine & Andrew's wedding January 2013
Dahlias were used to dress up the refreshments table and sills of the stained glass window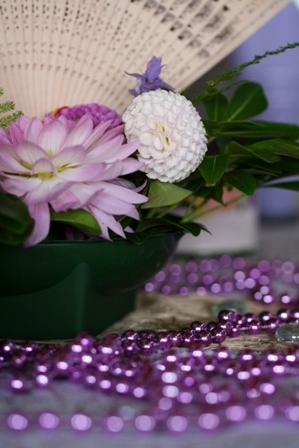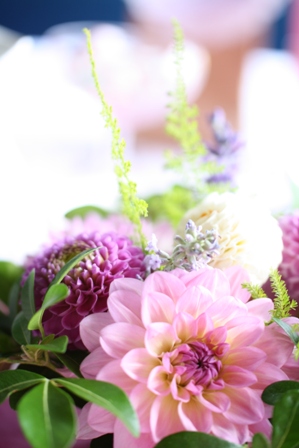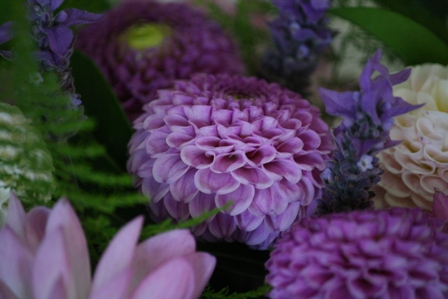 Debra Hunt
of Orewa
took these shots of some table arrangements for a "Ladies high tea luncheon"
at the Orewa Baptist Church 2013.
Arrangements were made by
Joan Roberts.
The menfolk probably stayed at home and had dry bread.....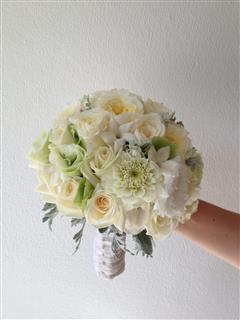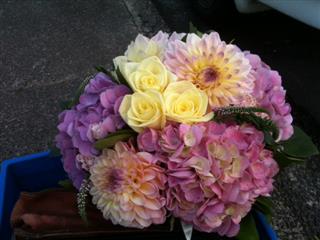 Arrangement used on the set for a 2013 "Go Girls" NZ TV series.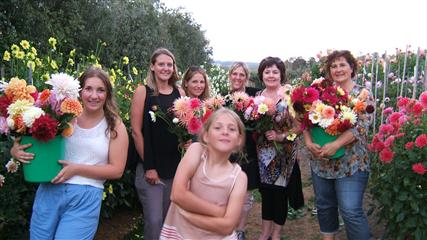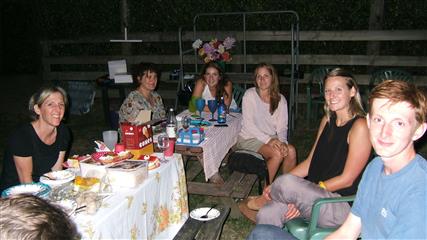 The Tui girls met their match
with this group of Florienne staff that enjoyed an evening with us at Dahlia Haven Feb 2013. We couldn't stop our staff "Sam the Man" from coming......I wonder why?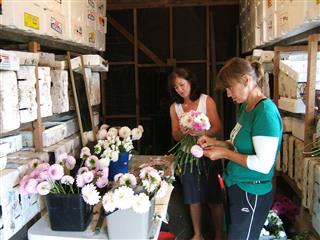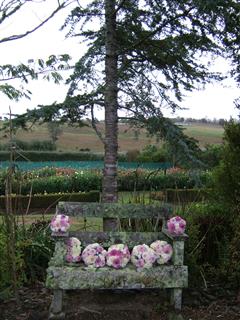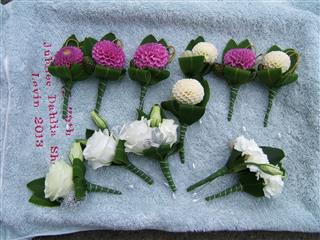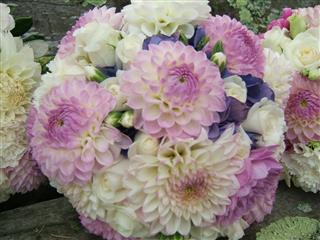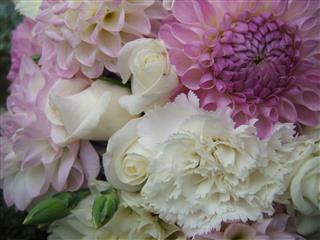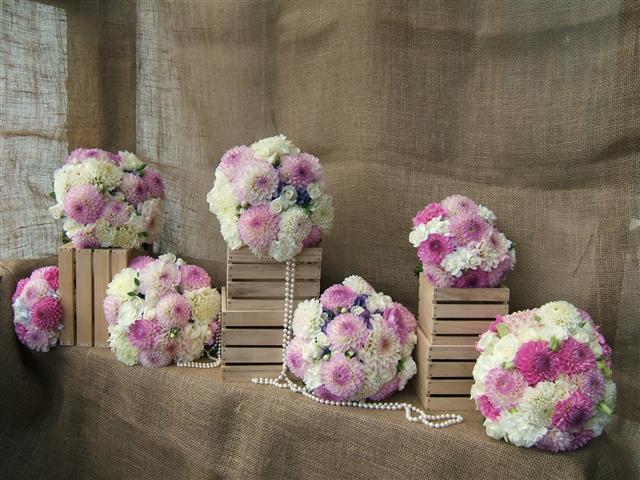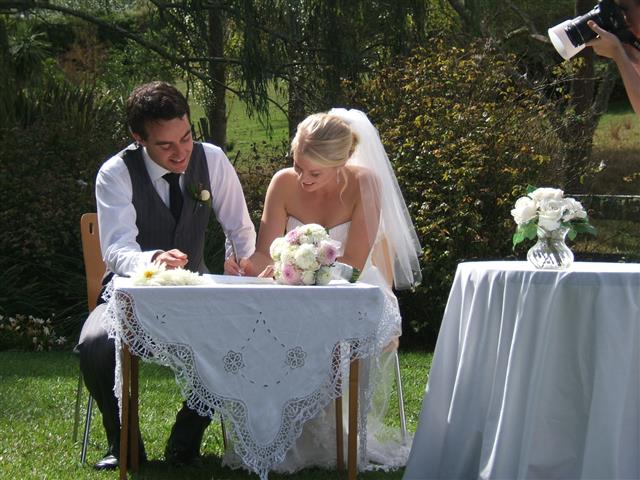 Judith from Whangaparaoa's Judith's Floral design www.judiths.co.nz
was helped by Linda on their Easter weekend to prepare the bouquets and buttonholes for this wedding.....
Katrina from
Jensens Hydrangeas (Ardmore)
and
Tony from
North South Flowers (Carnations)
supplied the extra's to complement the beautiful dahlias still flowering.......
The groom was all smiles, and so he should have beeen with a gorgeous new wife. What was amazing though was that the dahlia variety "Glenn Haven" named after him back in the 90's was absent from the big day......
Formerly from North West Auckland the couple are now hibernating in Christchurch....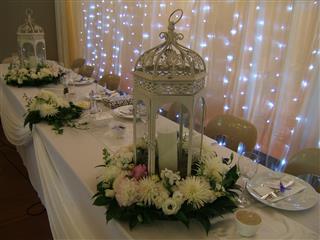 The flower girl Cameron (3yrs old) hung on to the posie all day and well into the evening......until the lollies came out. Then she ran around on a sugar high with eyes like Marty Feldman (look him up) till she ran out of steam......still with the (now sticky) posie in hand.
Katies Mum and Dad and the wider family arranged the breakfast venue and made a fantastic job...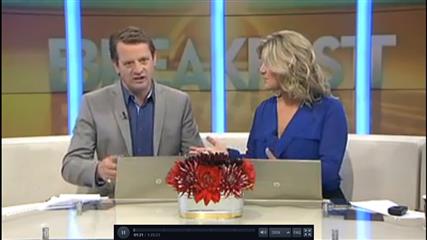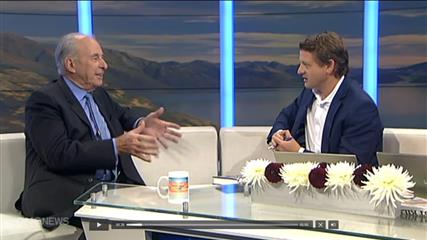 The TVNZ "Breakfast Show" featured dahlias from Dahlia Haven several times during the 2013 and 2014 seasons. These shots "clipped" from the live telecasts, shows the dynamic colour and form dahlias added to the set without distracting from the hosts.
___________________________________________________________________________________
Antics and special visitors during the season 2017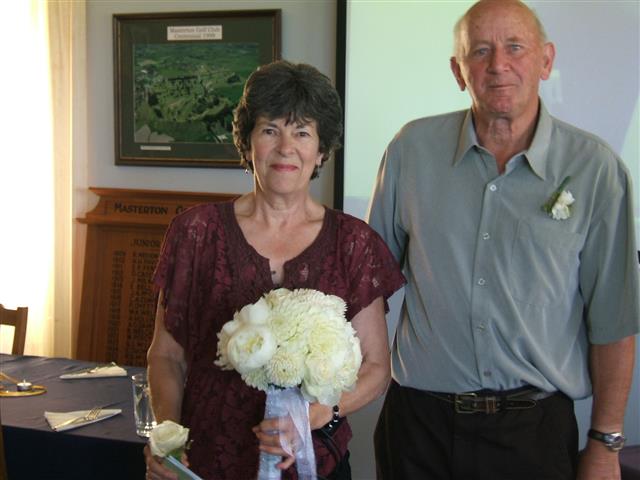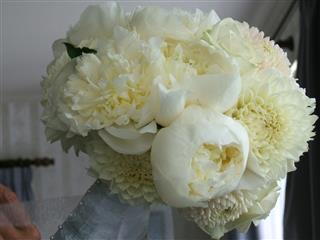 Masterton Dec 2013
This lady (Aunty) Kathy was awarded a bouquet of dahlias (with a few peonies)
for services to the wider family. Half a century of dedicated work, (their 50th wedding anniversary) keeping her husband under control. Feeding and watering him three times a day, washing and ironing, vacuuming, dusting....
You're a lucky man (Uncle) Dave XXXX Congratulations!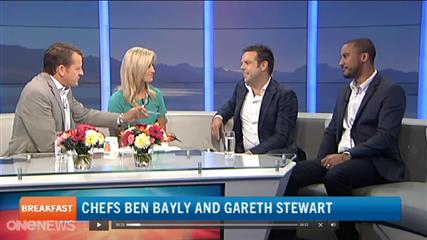 NI National 2017 at Hamilton, and this exhibitor from Hawkes Bay was getting her blooms ready for the show. Its a long drive to get to the show and by the vague look she was at the time a little bit like a deer caught in the headlights at night... however she was still sharp enough to get a number of premiere awards on the top table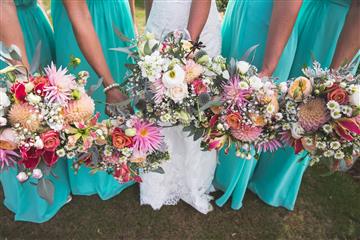 Debbie and Pip at BLOOMBROKERS (Mt Wellington based wholesalers) have kindly sent us these photos of blooms they supplied for a wedding 2015. One photo appears to be taken by Eryn Victoria Photography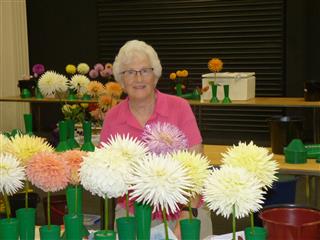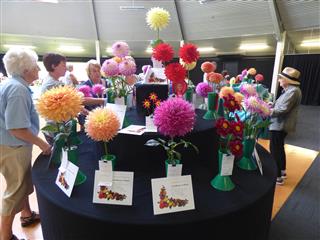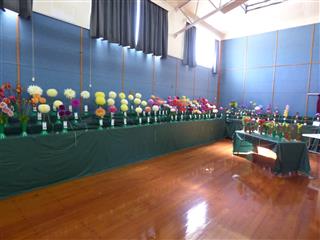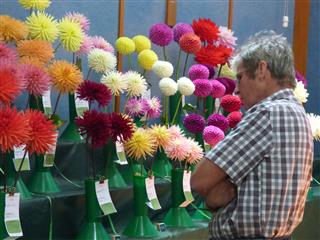 Waihi show 2017, one of the bigger upper North Island shows was well patronised once again. The new competitior to the left (new as he has been showing for less than 50 years) is studying some of the standout varieties on display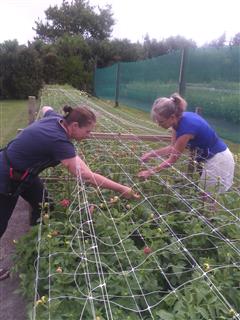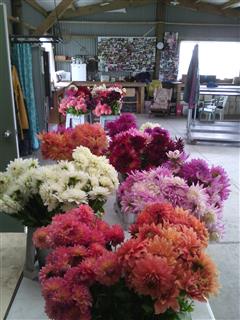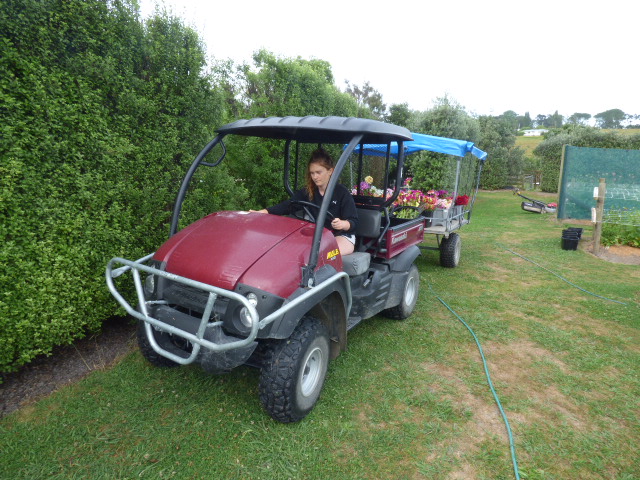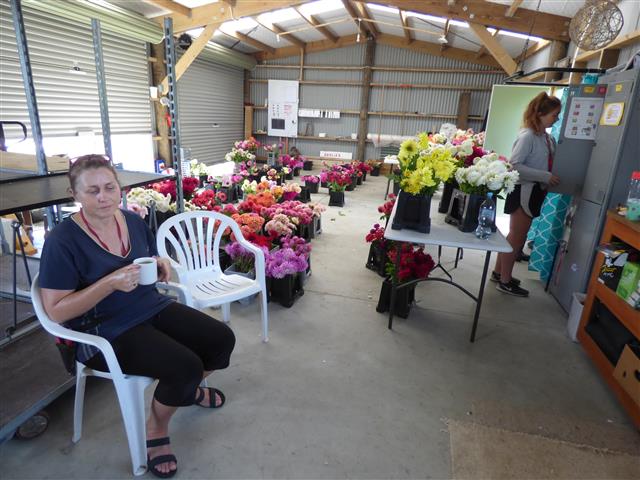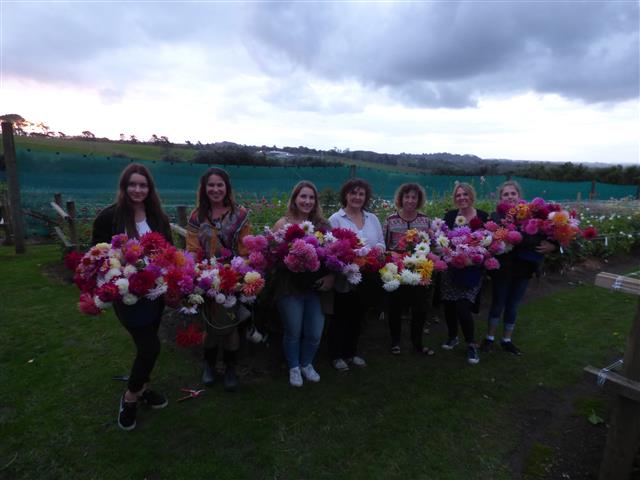 2017 picking season. It can become a daily routine, picking, carting the blooms to the shed, packing and eating. To try and keep fresh in the work, we try and maintain a bit of variety. Sometimes we will have gingernuts for biscuits, sometimes we will have shrewsberry's and occassionally a doughnut (my mouth is watering at the thought). The daily excitement to see what we are having is just about unbearable.....
The "mature" ladies this year had a new young picker to keep up with, but she was into health food and didnt eat doughnuts or biscuits. Nuts, fruit and green stuff..... sure you can be faster and maybe healthier but what a miserable morning tea to look forward to......
2017 Florists evening. This year the ladies turned up for an evening wander, picked a few and then sat down to a barbeque tea. I think they really only came for the lambchops and we were so lucky the the old ewe had just died in the swamp the day before.... waste not- want not, we were always told!
Escorted Tour 2017. This season we ran an escorted tour for a recently retired flower market worker. Had we known that he was going to bring his grandchildren as well, we could have organised a bouncy castle (I always wanted to play on one myself really). Norm was always very good to us (and others) when we dropped blooms at the markets. Sometimes we can get too busy and dont tell people they are doing a good job. It doesnt cost us to say so.....actually I think maybe I'm un-appreciated in the work behind the scenes I do, slaving away....Once I have my afternoon nap, and pluck up courage, I'll tell the boss. I hope she still cooks me tea....
These two ladies tagged along with Norm, and are pictured here learning about the flower trade and how to pick quality blooms.